Trou-aux-Biches Attractions
Must Explore is proud to offer you a secure online booking environment for a select number of attractions in Trou-aux-Biches, Mauritius. Below you will find a brief description of each featured attraction in Trou-aux-Biches, Mauritius. Simply clicking on the 'more attraction information' link will transfer you to further information such as room types offered and accommodation rates for your selected Trou-aux-Biches Attraction. From here you will be able to check availability and make a secure attraction reservation for when you arrive in Mauritius.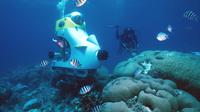 Two people on one of our sub scooters is twice the fun! You both breathe naturally under water through a shared bubble which gives you a 360 degree view through the glass. Enjoy watching the colorful fish as you move along three meters under the Indian Ocean. Traveling at a leisurely speed of 3km per hour, give you the opportunity to take in all the wonderful marine life.This ticket is for two ...
Trou-aux-Biches, Pamplemousses - Mauritius
Rates from
$93.06 (USD)
per person
Must Explore would like to wish you an enjoyable stay in Trou-aux-Biches, Mauritius.