Curepipe Attractions
Must Explore is proud to offer you a secure online booking environment for a select number of attractions in Curepipe, Mauritius. Below you will find a brief description of each featured attraction in Curepipe, Mauritius. Simply clicking on the 'more attraction information' link will transfer you to further information such as room types offered and accommodation rates for your selected Curepipe Attraction. From here you will be able to check availability and make a secure attraction reservation for when you arrive in Mauritius.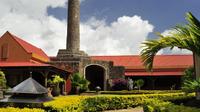 Spectacular changes of scenery will reveal some of the island's unique natural assets. A taste of nature, culture and refined gastronomy are a perfect mix for a treat of a day! Winding routes will unveil experienes to delight your eyes and tickle your buds.The journey starts with an introduction to the art of glass blowing in Phoenix followed by a stop for a glance into the country's seafaring ...
Curepipe, Plaines Wilhems District - Mauritius
Rates from
$109.51 (USD)
per person
Must Explore would like to wish you an enjoyable stay in Curepipe, Mauritius.